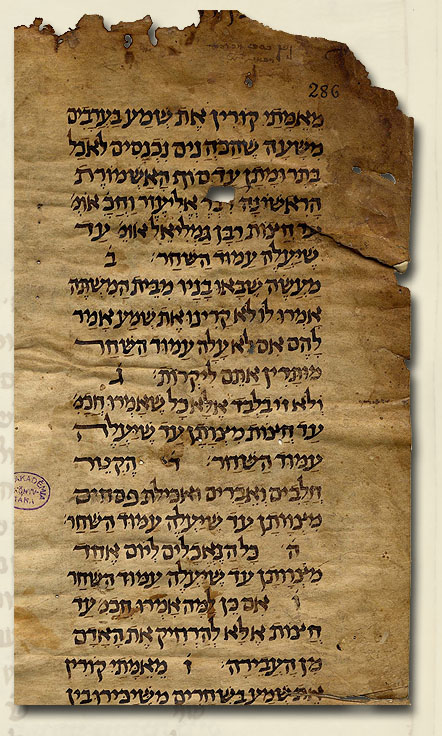 I would like to share with you a project that I started over 17 years ago. It has most definitely made a huge difference to my life and to my learning. I am referring to my daily study of Mishna.
It all begins with a story that someone told me many years back. (I really wish I could remember who told me this story ... I am so indebted to him, but alas, I have no idea who it was!) When his daughter was born, the proud parents made a kiddush to celebrate her birth. Their Rabbi approached the father of the newborn and said: "Do you know that if you study a mishna a day starting now, you will complete Shas (the 6 orders that make up the Mishna) by the time your daughter will become bat-mitzvah."
And so it was: Every evening, the father sat down to study a mishna. When his daughter was six or seven, she asked her father: "Dad, what is that book that you read every evening in the armchair?" He replied, "It's a mishna , and I started when you were born, and I'll finish at your Bat-mitzvah." This young girl asked her father if she could learn with him; after all, it was "her" mishna. Somehow, she managed to "catch up" and they made a siyum (celebration of completion of a unit of Torah study) on the entire Shas at her Bat-Mitzvah - no small achievement.
I heard this story and it impressed me. I was single at the time I heard it, but when my time came, and my wife was about to give birth to our firstborn, I packed a mishna Berachot into the hospital bag. And after my son was born and the pandemonium of the birth was over, mother and baby calm and settled, I took out my mishna and studied the first mishna in Shas.
I must say that completeing the entire mishna had seemed a "Mission Impossible" up to that point. In my 2nd year at Yeshiva, a young guy who had studied at a Yeshiva in Denver made a siym on Shas Mishna - I think it was his 2nd or 3rd time round - and I was astounded to think that he had the discipline to complete such a voluminous work.
But somehow, the fact that this was connected to my son gave it added impetus, and I kept at it. In truth I accelerated the pace; one-a-day was too slow and I kept losing the momentum of the mishna. But I completed the Shas on his 6th birthday. And then I started again. I now learn at a faster pace and am currently in the middle of my sixth time around!
So - why am I sharing this? I know that people find it difficult to so some daily learning. I love mishna.
It is short, in bite-size chunks. Even a small section has a coherence, and can be understood independently (unlike a talmudic passage) Due to its brevity, one has to have a good excuse not to have time to study one mishna/day.
The Kahati commentary is accessible and really useful. Other shorter commentaries exist as well.
It covers every sphere of Jewish law. Some days you are studying about Peah and social justice, other days about 2nd Temple court procedure. You may experience the festive Bikkurim procession, or the sublime service of the High Priest on Yom Kippur. It could be gory depictions of ancient executions, the mathematics of laws of the Eruv, complicated family patterns in Yevamot, gruesome decaying body-parts in Ohalot, the daily rituals of the sacrifices, or what have you. This is part of our commitment to Torah study. We don't always study the exciting or inspirational. We study Torah because it is our law and lore. This daily rigour, independent of the subject matter offers a deep expression of "kinyan haTorah" - our almost contractual relationship with Talmud Torah (Torah study.)
Sometimes, I cannot wait to complete a massechet (tractate) because it is overly technical or boring; other times, I greet a new massechet like an old friend, and I rush through it, enjoying its familiarity.
But I love the discipline of it as I plough through again and again. It is the marathon run rather than the short sprint, but it is hugely gratifying.
It is beneficial as well - I have found that it has offered me an excellent grounding for Talmud study as so many concepts, and mishnaic formulations are familiar to me.
So to friends, students and other readers, its a project worth doing. It takes time, but you will be proud at the end and gain a tremendous amount of knowledge on the way.
If you are seeking a regular Torah learning project, I highly recommend daily Mishna study.